IFB Washing Machine in India – Review | deal24by7 (2022)
When it comes to choosing a front load washing machine, majority of consumers opt for one amongst LG, Bosch or IFB. After all, they are market leaders in the front load washing machine market with IFB having 39% market share, LG having 32.6% and Bosch less than 10% market share, but growing rapidly. Whirlpool, Samsung and Videocon on the other hand have minority market share and are yet to establish themselves as contenders as market leaders.
IFB is one of the premier Indian non-government Washing Machine brand. Great appreciation to this company, which satisfied the Indian audience when many other local Indian brands failed to attract them. With more than two decades of experience, the company has been serving to its customers with a variety of models. It uses advance technology and attractive features to give your clothes the attention they deserve. It spends a minimum on the advertisement and attracts its customers through word-of-mouth publicity and consumers' satisfaction. The developers of IFB cares for their customers. That is why they offer multiple features to deal with different fabric with the desired care.
IFG Washing Technologies
1- Multiple Washing Features
IFG offers you wide range of washing styles to help you wash any sort of dirt from your clothes and to take care of any type of fabric. It offers 360-degree wash, air bubble wash, cradle wash, O2 Wash and Steam wash. 360-degree wash spouts the water in a 360 degree inside the washers' drum. It ensures that no detergent and dirt are left in your clothes and loaded clothes are being evenly soaked.
The cradle wash gives a thorough and smooth wash to your delicate clothes like silk, lace, and satins with gentle care. O2 wash is great innovation by IFG, which generates millions of Air bubbles to wash the tough dirt from the fabric. It rinses the clothes through 3D wash system to apply a force on stubborn dirt to ensure better cleanliness of your clothing. Finally, the steam wash forms a dynamic duo. A small proportion of water generates steam to keep the loaded laundry soft and wrinkle-free.
2- Aqua Energie & Hard Water
            In India, a hard water problem is very common. Especially, if you are living in Noida, you will face a hard water problem. Hard water leaves an ill-health impact on your clothes and also affect your washers. Aqua Energie technology of IFG helps you to deal with the hard water problem. It consisting of a built-in aqua filter which breaks the bicarbonates of hard water into the fine crystal. This newly generated crystal easy wash away with the water flow and keep your clothes and washers clean.
3- Smart Technologies
IFB is the first Indian brand which offers smart washing machines to help you in laundry management. These washers consisting of high-quality sensors to take care of the fabric of your clothes. This type of quality wash you cannot expect from any conventional washing machines. Now, heavy soiled and tough dirt on your clothes is no more a problem for you. Smart loaders, with their smart technologies, gives a tough wash with extra care of your clothing. The smart loaders of IFG also consume very less electricity to save your hard-earned cash.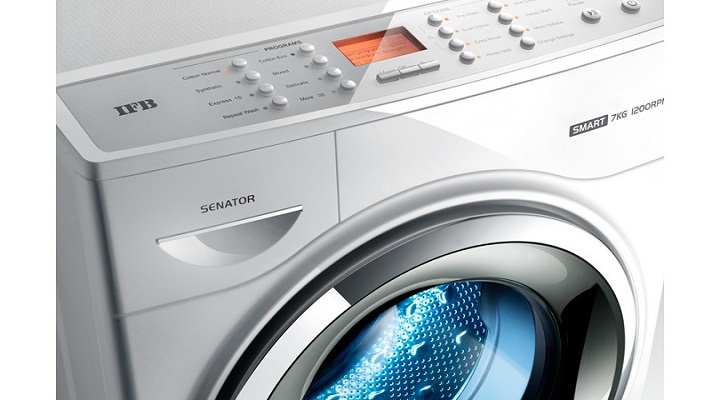 Positives
If you are searching for a reliable and affordable washer with the robust build quality, you can try IFB Washing Machines. It's marketing strategies are different than other popular washers brands. It spends a minimum on the advertisement and attracts its customers through word-of-mouth publicity and consumers' satisfaction.
Negatives
The performance of the IFB Washers is amazing. Its load is adjustable and provides the high-speed variable frequency (up to 1400 RPM). Though it's a premium brand it lacks innovative features offered by other International brands. Also, if you belong to tier-3 or tier-2 cities of India, you cannot find IFB washers there.
Conclusion
IFG is the local premium brand and is the market leader in front loaders. It is always focused to keep its customers happy and satisfied. That is why the experts are focused to use more updated and advance technologies in their washers. These technologies are helping millions of customers in doing their laundry with great care and out-class cleaning. The soft scrub pads to gently remove the stains from fabric, and powerful 360-degree wash ensures thorough cleaning of the fabric. Keep enjoying cleaning every corner of your garments with IFG.
IFB top-loading machines
When it comes to affordable top-loading options, IFB washing machine models offer a great range of features:
A 7-stage Aqua Spa wash cycle.
Pre-set programs.
Fully customizable wash settings: water level; agitation; rinse; spin; and temperature.
Auto softener dispenser: adds softener during the wash, so you don't have to.
3D waterfall technology.
Sophisticated agitation system.
See-through lid.
Top-loading machines are a great next step-up from semi-automatic washing machines. Because they have one tub, rather than two, they tend to take up less space; they can perform a soak, wash, rinse and spin cycle all in one place; and can be moved around more than front-loading machines
IFB front loading washing machines
IFB's user-friendly approach means you can have lovely clean clothes from a fully automatic front-loading washing machine, without having to press a million buttons! The company's front-loading models feature a crescent moon shaped drum and have Air Bubble Wash and Auto Imbalance systems that help to control agitation to take better care of delicate fabrics. They also have a foam control system and cleaning program to keep your machine clean and functioning to the best of its ability. And if you buy an IFB washing machine in India, you know that as an Indian manufacturer, their machines are tailored to your needs – so your clothes are safe in their hands. To find out more and browse their range of washing machines
Last update was on: June 23, 2022 6:32 am