Are you worried how to select the right washing machine? Selecting and buying a right choice of washing machine is not so easy. Various types of washing machines are in the market. Fully automatic machines are the machines which do complete laundry at their own labor and require no more attention whereas semi-automatic machines are those which require some labor of the owners and need proper attention as it requires water manually through bucket and also taking the clothes from washing to spinning side for drying purposes.
What is Semi-Automatic washing machine?
Semi-Automatic machines have two tubs in it. One is for washing purpose and other is for drying the washed clothes. When washing the clothes is done, shifting the clothes from one tub to another for drying is the work, you'll have to manually done. The clothes will dry automatically and then you can bring them out. Don't be worry about it how to use it. It's as easy as a child work. It requires us to do labor and do laundry manually.
What is fully automatic washing machine?
Do you need luxury? Here it is! Fully automatic machine does everything in the same tub, washing and drying. No labor is required. No manual intervention is required in this machine as it does washing and drying in the same tub automatically on the touch. Fully automatic machine needs no laborious manual intervention of the owner. Laundry becomes too easy with it. No need to be worried just put your clothes into it and water connection will provide sufficient water into it and all is done. The voice sensor will inform you what it is doing.
Cleaning process of both washing machines:
Let's talk about the cleaning process of both the machines. When it comes to cleaning process, all what you need to do in fully automatic machine is to put detergent and clothes load into the machine and the machine will sense it how much water it requires and voice sensor will keep on providing you information what the machine is doing. All what you need is to see how it works at the click of the button.
Semi-Automatic machines need the person to put appropriate water into it and then put suitable quantity of detergent for washing the clothes. Put the clothes into it and then the machine will do the rest of the work. After washing, you'll have to take clothes out of one tub and put into other for drying process.
Detergent consumption of both machines:
Both the machines require detergent for washing but which one is better? Let's know by perusing the details a bit. Fully automatic machines require more detergent as manually you'll have to put detergent according to the loading capacity but a consistent water connection consumes more detergent whereas semi-automatic washing machines use less detergent as it requires you to put detergent into it as required.
Water consumption of both:
It's your responsibility to pour water into semi-automatic washing machines and pouring the right quantity is what you need to focus on. Fully automatic washing machines needs permanent water connection, but less water coming from connection can cause problems. The machine automatically selects how much water to consume. The later one is better in water consumption.
Electricity consumption of both:
Advanced functions require more power as they are installed in fully automatic machines and these machines require long circles for washing whereas manually running semi-automatic washing machines consumes less electricity. In this, the semi-automatic machine wins as it consumes less electricity. Don't go anywhere, still God's plenty information.
Design Aspect:
One machine does have one tub and needs nothing more to wash clothes. It does washing and drying in the same tub. So, these are fully automatic washing machines.
On the other side, semi-automatic washing machines do have two tubs very near to each other and it requires shifting of washed clothes into other tub for drying.
Types of washing machines available in market:
Fully automatic washing machines are of two types in the market. One is top-loading and other is front-loading machine. The main difference between these two machines is the adjustment of the opening door.
Top loading washing machine:
Top loading washing machines have to open at the top side as the name suggests. It stands vertically and has agitator and impeller in it. Agitator works to spin the laundry and impeller pushes water from the bottom of the drum. It needs no bending. It encompasses less space as its shape is vertical. Its vertical design allows adding laundry while it's running. On the other hand, its agitator is installed in the middle of barrel; it leaves less space for laundry.
Front loading washing machine:
In avert to top loading, the barrel of front loading washing machines is placed horizontally. It turns around the barrel and washes the clothes. When it runs, the friction occurs that does not prevent the actual fabric of the clothes. This machine has more capacity because its paddles are installed on the walls of barrel. Its tumble wash and long wash cycles provide better wash quality. It uses less energy as it has more cycle settings. These machines are water efficient. Opening and closing of the door is a laborious work as it is installed at the front.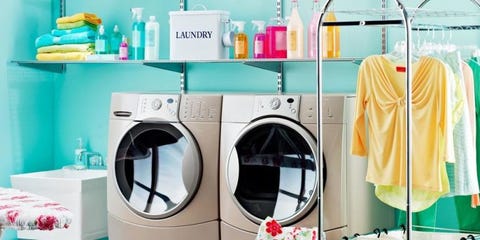 Cost comparison:
Semi-automatic machines are less costly because of their manual interventions. If you don't care about manual input of clothes and shifting them from one tub to another, just go for semi-automatic washing machines.
Less consumption of water, less usage of electricity and less cost are the upsides you'll get when you go for purchasing semi-automatic machines but if you're running short of space, you need to go for fully automatic machines. If the cost is the only concern, go for semi-automatic washing machines. Keep on reading for more information.
Which semi-automatic machine is better?
Have you gone through the market to purchase semi-automatic washing machines? These are of two types; top load and front load. Top load semi-automatic machines are better than front load semi-automatic machines. Top load washing machines have opening door at the top and its barrel works in the middle and have less loading capacity. Front loading semi-automatic machines have door at the front as the name is showing. When its door opens, half open door is difficult to grab when it's loaded with clothes. So, top loading semi-automatic washing machines are better to use.
Which fully automatic machine is better?
In the market, if you're searching for best product of fully automatic machines. Keep on reading to know what to purchase. Top loading washing machine have door at the top for loading the clothes. The clothes can be loaded easily and its shape is vertical. It encompasses less space because of its vertical shape. Top loading washing machines have barrel in the middle and it provides less space for washing more clothes.
Front loading fully automatic washing machines have opening at the front. Just open the door, put the clothes into it and close the door, the machine will do everything itself. What more you need. It has horizontal shape and requires more space. Also, when the barrel runs, the friction occurs and the fabric of the clothes also gets loss. What you guess, which machine is better? I would suggest you to use top loading fully automatic machines as they encompass less space and have better cycle settings. Why not go for it and grab now.
Which One is better for different type of cloths
| | |
| --- | --- |
| Fully Automatic Washing Machines | Semi-Automatic Washing Machines |
| Velvet | Cotton mix |
| Chiffon | Batiste |
| Satin | Brocade |
| Corduroy | Linen |
| Denim | Cotton |
| Flannel | Crepe |
| Fleece | Organza |
| Jersey | Taffeta |
| Italian Nylon | Lace |
Which one Safer out of both:
Fully automatic washing machines are much better to use as they are safer and demands low or no contact while washing. Fully automatic machines just want you to be safe and sound as before running it, you just need to put clothes into it and then everything will be done and a voice sensor will also inform what it is doing. Semi-automatic washing machines need more labor as when you need to put detergent, pour water into it, shift clothes from one tub to another; there is the possibility that you may not switch off the button. For this reason, you're not safe. Do you need your life to be safe? Why not use fully automatic washing machines to make less contact with machine while washing.
Target audience of both machines:
Who are you? It's not a big case. Just select the right specifications you're looking for and grab the right choice. Fully automatic washing machines and semi-automatic washing machines are available in the market but the first one is a bit costly in price and later requires more manual intervention. If price is not a case for you, just go and grab fully automatic washing machines but if you don't have enough money and want to grab one machine, just go for semi-automatic washing machines and get your work done. So, you, yes, you, the reader is the target for us to make you satisfy.
Pros of Fully Automatic Washing Machines:
Does everything at a click.
No laborious intervention required.
Complex laundry needs; no problem anymore.
Big family; big loading capacity.
More space and direct water connection.
No manual pouring of water and detergent.
Lighter in weight.
Available in the market.
Easily accessible.
Better washing quality; water efficient.
More cycle settings and less energy consumption.
Cons of Fully Automatic Washing machines:
Too much expensive.
Direct water connection.
Consumption of more water.
Heavier than top loading machines.
Fixing at one place.
More energy consumption.
Pros of Semi-Automatic Washing Machines:
Low in cost.
No direct water connection is required.
No fixation at one place.
Less water and energy consumption.
Manually selectable cycle settings.
Light in weight.
Movable from one place to another.
Manual loading capacity.
More water efficient.
Cons of Semi-Automatic Washing Machines:
Less installed functions.
Manual addition of water and detergent.
Manual shifting of clothes from one tub to another.
Takes small loading capacity.
Have less cycles settings.
Conclusion:
Is it still not easy to make decision after knowing the specifications? Yes, me too at the same spot. Let's have a comparison chart of fully automatic and semi automatic washing for better decision. Let's continue reading it.
| | | |
| --- | --- | --- |
| Property | Fully Automatic | Semi-Automatic |
| Size | Vertical and Horizontal | Bigger because of two tubs |
| Electricity Usage | More power consumption | Less power consumption |
| Water Consumption | More water consumption | Less water consumption |
| Mobility | Not easy | Movable |
| Load Type | Top and front | Top loading only |
| Cloth Types | Mostly velvet and soft clothes | Linen and cotton |
| Wash cycles | Fast | Faster |
| Cost | High | Low |
| Working | Completely automatic | Manual + automatic |
| Washing quality | Better | Good |
| Fixation | At one place | Movable |
After seeing all these features in the comparison chart, let's put stride forward and grab a machine of your choice.
Some of the Selected fully Automatic Washing Machine :
Some Of The Semi Automatic Washing Machine Selected For You.